This post is sponsored by SantaSentMeALetter.com
If you have a child under 10 years old, or who still believes in Santa, this would make an adorable gift! The SantaSentMeALetter.com letters can be personalized to add your child's name, his teacher's name, sisters and brothers, things they want for Christmas, and more. And it is so simple to edit. I did three letters in less than twenty minutes! I know that the grandchildren are going to love receiving these in the mail from Santa Claus.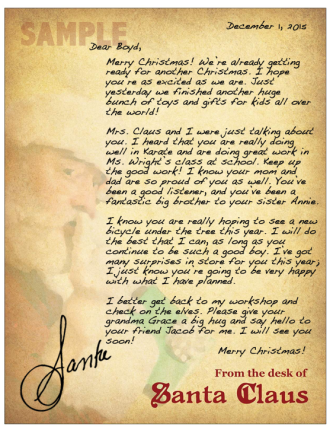 There are several price options, that include just a letter; a letter and a membership card to the "Nice List" and more.
These letters are very nice, and will be a keepsake for years. Add them to  your child's baby book or scrapbook. To send a letter from Santa to your child or grandchild, go to  SantaSentMeALetter.com.